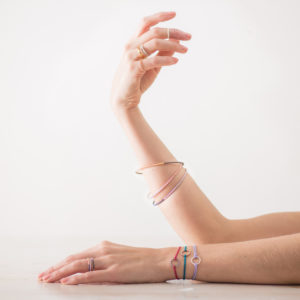 Handmade bangles and bracelets
My handmade bangles and bracelets made from sterling silver.
My handmade charm bracelets with simple beaded precious metal charms come in an array of colours, with a high-quality elastic strap to fit any wrist. The charms are available in a circle or heart shape and you can choose from plain silver, oxidised silver, 18-carat yellow or rose gold plated.
If you fancy something elegant and geometrical, have a look at my bangles. The BoulBoulle bangles feature a subtle two-tone precious metal with a beaded finish. Available in 18-carat yellow gold and black rhodium plated, 18-carat rose gold and white rhodium plated or a blue and white rhodium plated combination.
For a more organic feel choose from my skins bangles, delicately formed and forged from flat sheets of metal.
Why not clad your arms in beautiful jewellery and have an 'arm-party'? That is totally a thing! Wear the bangles and bracelets on their own or stacked together for a fun take on the classic stacked jewellery look.
I make matching rings and necklaces for every piece, so have a browse through my other pieces. If there's something you like the look of but want to change a detail, just ask! I always aim to work closely with you to create your dream piece of bespoke jewellery. Get in touch and tell me your ideas.