About Judith
I have always been creative and a creative career path was all I could think about. After graduation from High School with Abitur in Germany I decided to apply to the Academy of Fine Arts and Design Maastricht (MAFAD) in the Netherlands. After the propaedeutic year, and getting a sneak-peak into every direction of design, I decided to continue my Bachelor studies in Jewellery Design, where my passion lies. After graduating I moved to London, UK, fully emerging myself in the Hatton Garden jewellery trade. Honing my skills as a maker, exploring and learning as much as I could about the jewellery trade in England I worked in Hatton Garden for 6 years. In 2016 I decided to start my own business, creating storytelling jewellery collections and crafting bespoke jewellery pieces. Judith Peterhoff Jewellery was born in November 2016. Working from my studio in the Goldsmiths' Centre in Central London gives me the opportunity to collaborate with other talented makers in the trade.
'I love handmaking jewellery'
About Judith's Work
The inspirations for my designs come mostly from my family. They give me support and inspiration at the same time. The designs don't necessarily have anything to do with the family topic, things like my niece's port-wine stain can trigger me researching into different directions and creating a new line of contemporary jewellery with a story. Experimenting in materials and learning new techniques has always been in my field of interest and I am eager to learn more every day.
In my latest collection, the Decorio Collection, I take inspiration from the human form. Showcasing the natural beauty in the characteristics that make us stand out. Perceived imperfection are emphasized to celebrate individuality.  I find inspiration in small things like the freckles on our face or the beauty mark on a cheek. In the Decorio Collection, each piece is hand chased. The malleable metal is delicately curved, forged and shaped by hammering from the reverse side to create a tactile design in low relief.  I add textures in an organised chaos and thus each piece is one of a kind. Sensuous smooth shapes evolve from flat lightly textured surfaces to look as though they have grown. Soldering the forged pieces together to create three dimensional hollow forms gives me the freedom to work in larger scales but still keep the jewellery light in weight.
What my customers said about my jewellery…
"I was so happy when I collected the ring, everything was perfect. Thanks so much Judith for creating something unique and special for my future wife."
"I asked Judith to design a necklace for my friend's birthday and I had only some vague idea of the design. She picked up on that very easy and made a beautiful necklace, which was better than I had imagined it to be! I was really happy."
Dear Judith, thank you for the great realization of a special idea and the craftsmanship and very good execution.
"I commissioned a necklace from Judith for my sister's birthday. It was beautifully made, completely unique, and it totally made her day."
"My wife was absolutely surprised and loves the necklace. It's exactly her style, especially the length. Everybody asks where I got the necklace from."
"I recently purchased Judith's beaded ring, gold with black rhodium plating and it's beautiful! She took my colour combination and preferred bead size and I now have a gorgeous bespoke piece of jewellery. Thank you Judith xxx"
Check out my blog posts here:
I am delighted to announce that I will be showing my work at the Craft Central Winter Market at The Forge this Winter.
I am delighted to announce that I will be showing my work at the Craft Central Winter Market at The Forge this Winter.

The story of a bespoke engagement ring inspired by waves. Sam found me through a recommendation and emailed me about a quote for a bespoke engagement ring. He knew that he wanted the ring to be in white gold and a three stone design. The special feature about this engagement ring is that Sam already had two diamonds, beautiful family heirlooms from his (now) fiancé's family...
I am delighted to announce that I will be showing my work at the Craft Central Winter Market at The Forge this Winter.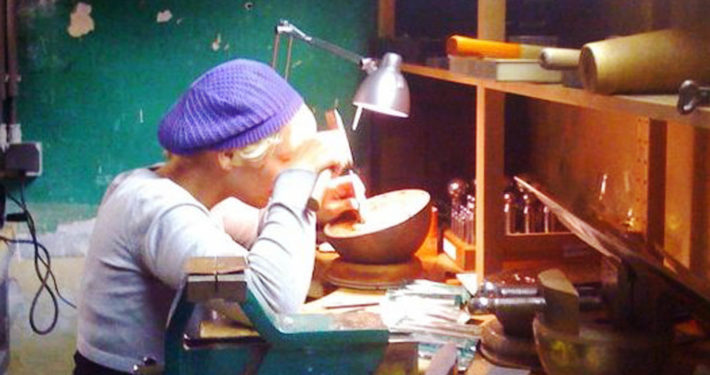 As this is the month of fresh starts and planning, I thought I would share with you my plans for this year, which I'm VERY excited about! I'm also going to tell you the story of how I got in to hand-making jewellery. Spoiler alert! It features puberty, glass beads and 3D printing. All good stories have a beginning, so let me start by telling you where my love for jewellery making began.