Jewellery Care Instructions x Judith Peterhoff
So, you've bought some beautiful precious jewellery and you're keen to show it off. You've taken selfies and posted on Instagram and Facebook. Who wouldn't? We do it too! But if you want your jewellery to look its best for as long as possible it's important to look after it.
For some, purchasing precious jewellery can be an investment into a family heirloom, particularly when it comes to engagement rings. It's something that you can pass on to your children or grandchildren and something which you hope will retain its beauty for years to come. Here are our top tips to help you maintain the longevity of your precious jewellery.
Care instructions for your precious jewellery
Store your precious jewellery safely:
Protect your jewellery when you're not wearing it. Store it in a proper storage box (not a gift box) or wrapped in an airtight container such as a plastic ziplock bag. If you don't have a proper storage box, use your gift box, but make sure the jewellery is wrapped in a plastic bag. Sometimes the glue from the gift boxes can make the jewellery tarnish quicker, especially sterling silver.
Make sure it's the only item in the box/bag to avoid unwanted scratches or marks. If you leave your jewellery on your bedside table or out in the open it can tarnish very quickly.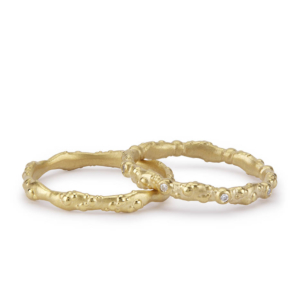 Your jewellery doesn't mix well with: 
Hairsprays, suntan lotions, soaps, hand creams, washing-up liquid and make-up etc. Chemicals and substances like these can discolour and damage your items. Apply perfume, suntan lotion or other lotions before you put on your jewellery and make sure it's completely dry.
Take your precious jewellery off when:
Gardening, swimming, showering, bathing and exercising, especially any exercise that includes handling equipment such as lifting weights or gripping poles or aerial hoops (We personally love aerial hoops, so have first-hand experience with this!). A humid climate, as well as body products and secreted acids (for example your sweat), can discolour your jewellery.
It's best to avoid:
Extreme temperatures and humid environments where possible. Don't wear gold or silver rings next to platinum or exposed diamond rings – platinum and diamonds are much harder wearing and can damage your other jewellery pieces.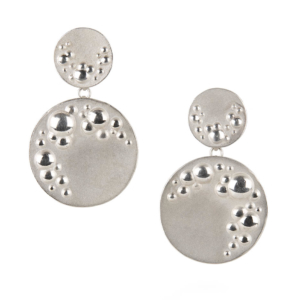 How to clean your jewellery
To keep your jewellery looking as good as the day you purchased it, it's important to do a regular clean and polish. Each precious metal has different needs when it comes to cleaning, so check the guide below for what to do with jewellery.
Silver – Wash for one minute with warm water and a very gentle liquid detergent solution. Dry with a soft cloth. A jewellers polish cloth and polish foam can work wonders if your silver piece is heavily tarnished. If you're looking for that brand-new shine, a silver dip can give it that nice natural finish again.
Gold –  Same as the silver but also dry wipe with a soft cloth – don't use silver dip with gold jewellery!
Precious gems – Wipe gently with a soft, slightly damp cloth or tissue.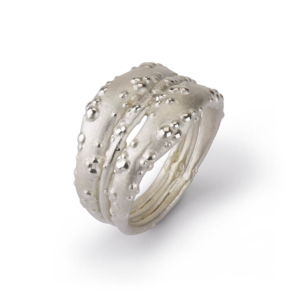 Jewellery with a special finish:
Gold vermeil/rhodium plating – If your jewellery is gold vermeil or rhodium plated take care when cleaning it. Use a very soft cloth and only give a very gentle polish. When gold vermeil and rhodium plated jewellery is knocked or scratched, the fine layers of gold and rhodium can rub off.
Matt finish – Pieces with a matt finish will become shiny through wear. While some people like this look, others don't. Don't worry, it can be easily restored at home. Just take a scouring pad and some soapy water to restore the matte finish. Be careful not to scratch any stones! If you're unsure, test it on the back of the item first.
Judith offers a cleaning service to clean and restore any of Judith's work you may own. Included in this service is the restoration of the matt and polished finishes. More details below.
Oxidised jewellery – The black finish on silver jewellery is called oxidising. Oxidising, as well as gold vermeil and rhodium plating, can wear away over time to reveal the shiny silver underneath. Some people like this look,  but if you prefer your piece to be black, get in touch with us and we can oxidise the piece for you.
Contact Judith to clean your jewellery
Taking good care of your precious jewellery will keep it sparkling and looking good as new for your and its lifetime. All of Judith's jewellery is handmade in her studio in London and don't worry, she sends a personalised care plan with each item!
We offer a cleaning service to clean and restore any of Judith's work you may own. We charge £30 and this covers return delivery in the UK.  Email us at hello@judithpeterhoff.com to arrange a cleaning service. Please allow 14 days for the return of your jewellery.
If you have any specific questions about how to care for your jewellery get in touch with Judith for tips and advice.