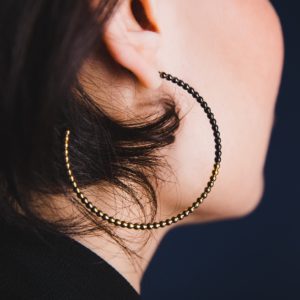 Handmade Earrings
My handmade earrings range from mini circle studs to large statement hoops with a twist.
Choose your favourite handmade earrings from the delicate BoulBoulle collection made from delicate beads of precious metal or statement studs and hoops from my Skins and Decorio Collection. Delicately shaped and forged from sterling silver and embelished with sapphires, the decorio studs are beautiful and special addition to your favourite jewellery selection.
I make matching rings and necklaces for every piece, so why not treat yourself to a complete set? I take commissions for custom designed jewellery, so if there's something you like the look of but want to change a detail, just ask! I always aim to work closely with you to create your dream piece of jewellery. Get in touch and tell me your ideas.