What my customers said about me
I would love to hear your thoughts, feedback, review and the stories connected to your jewellery from me. If you have already purchased a piece of precious jewellery from me and/or just want to give me your feedback, please do get in touch via email.
Here are just a few of my favourite customer reviews.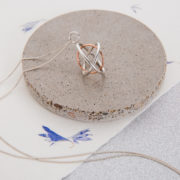 I recently discovered Judith's jewellery and I knew immediately that THIS was what every mum deserved for Christmas. Handmade by Judith in her studio in North London, Judith made her first family pendant as a commission for a friend – a pendant for a friend who had just given birth to a baby girl. And what a lovely way of commemorating a child's birth! Since then, she's gone on to sell her family pendants on Not On The High Street, one of my absolute favourite sites for shopping for amazingly unique gifts. (…) As you can see, this makes a beautiful present for any mum – old or new – and is a really special way of keeping your family close to your heart at any time and wherever you go. Now that I have mine, I want to wear it every day as I absolutely love what it symbolizes.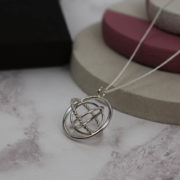 When my pendant arrived I really was taken aback by its beauty. Each ring is perfectly round, with the larger of the two seeming to protect the smaller rings. My pendant has two large sterling silver rings, with two copper baby rings. I love the contrast between the different materials, it really makes this piece stand out from the crowd. Each pendant also arrives with its own chain, meaning it's ready to wear as soon as it arrives. I love that my pendant is so personal, it means so much to me that it's a sign of the people who I love most in the world. It's obvious from the outset that Judith is passionate about her work. The family pendant really is an exceptional piece, that displays such a high level of care and craftsmanship.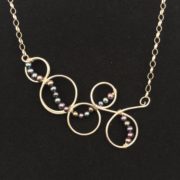 "I commissioned a necklace from Judith for my sister's birthday. It was beautifully made, completely unique, and it totally made her day."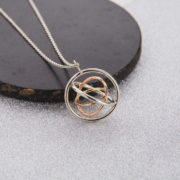 "My wife was absolutely surprised and loves the necklace. It's exactly her style, especially the length. Everybody asks where I got the necklace from."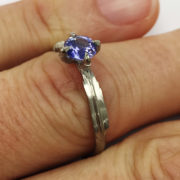 "I was so happy when I collected the ring, everything was perfect. Thanks so much Judith for creating something unique and special for my future wife."
"The detail on the talon and feather is amazing and everyone has been complimenting the ring when they see it. Judith did an lovely job in creating a ring that is so wonderfully unique and special, and it is one that I will always treasure!"
Rachel, the bride to be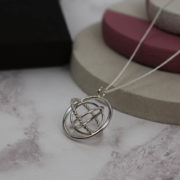 "Judith has created me an amazing family pendant. She was excellent to work with. As I couldn't decide which metals I wanted the rings in for my pendant so she helped by sending me photos of different options to help with my decision. Once I ordered she made the pendant so quickly as I wanted it for my upcoming birthday and wedding. I am so pleased with the result and the whole process has been a fantastic experience. I can't wait to order more of Judith's fabulous jewellery."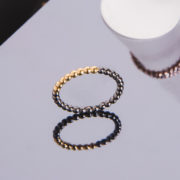 "I recently purchased Judith's beaded ring, gold with black rhodium plating and it's beautiful! She took my colour combination and preferred bead size and I now have a gorgeous bespoke piece of jewellery. Thank you Judith xxx"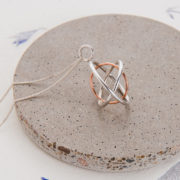 "I asked Judith to design a necklace for my friend's birthday and I had only some vague idea of the design. She picked up on that very easy and made a beautiful necklace, which was better than I had imagined it to be! I was really happy."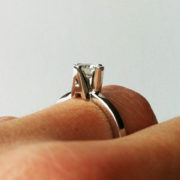 When I met Judith to talk to her about an engagement ring I had apart from the material and that Andrea's and my name or initials W A should be seen no idea whatsoever! After Judith had made some suggestions to me, we quickly agreed what the result should be.
When I held the ring for the first time in my hand it became clear to me that it was an absolutely unique piece. Not only because Judith had made it by hand, but much more because the idea behind it is truly unique. From above, there are dots that hold a diamond. But on the sides, our initials give the ring a very special meaning for the engagement. It will not work with most other initials. W and A fit together perfectly.
Dear Judith, thank you for the great realization of a special idea and the craftsmanship and very good execution.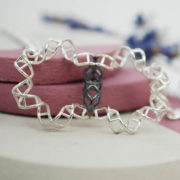 Judith is a top woman! She worked on a bespoke piece of jewellery for me and the process was easy as pie. She transformed a wonky sketch I drew into a beautiful necklace. I trust her craftmanship & creativity. 5*!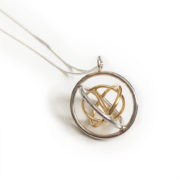 I was looking for a special piece of jewellery and Judith was incredibly helpful in the way she went through all the different options with me so it would be exactly what I wanted; letting me know upfront when the necklace would be ready, and the cost. What I received was beyond expectation and my mum absolutely loves it! Will definitely be buying more pieces!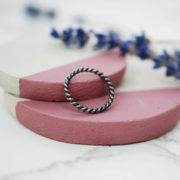 I ordered a bespoke men's ring and one of her charm bracelets with beaded charm for Christmas presents. Both were delivered in plenty of time, looked great and the people I gave them to LOVED them! The packaging that the jewellery comes in makes a really nice gift, I didn't even need to wrap the presents. It was a really quick easy process to customise the jewellery and the final products are amazing. I'll be ordering something for myself soon