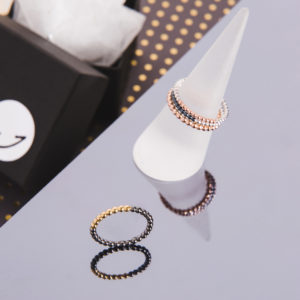 Handmade rings and eternity rings
My beautifully crafted handmade rings can be worn on their own or stacked together for a fun and colourful take on the classic stacked-ring style.
My BoulBoulle collections are made with beaded precious metal and come in two bead sizes. The two-tone combinations give them an eye-catching twist, and they're available in 18-carat yellow gold and black rhodium plated, 18-carat rose gold and white rhodium plated or blue and white rhodium plated combinations.
If you're looking for something extra special, perhaps for that important person in your life, check out my Bliss eternity ring. An elegant twist of square wire and precious metal beads, the Bliss ring can be worn on its own, looks brilliant stacked and is stunning next to any engagement ring.
There are matching earrings and necklaces for every piece, so you could treat yourself or someone special to a complete set.
I also take commissions for custom designed jewellery, so if there's something you like the look of but want to change a detail, just ask. I always aim to work closely with you to create your dream piece of jewellery. Drop me an email and tell me your ideas.