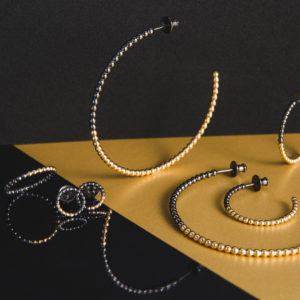 Welcome to my BoulBoulle Collection

This collection is inspired by my mother's maiden name, BoulBoulle, Which means 'big ball, small balls'. It's a fun loving ready-to-wear collection – adding a dash of colour and a contemporary twist to classic styles.
My handmade BoulBoulle Collection includes bracelets, earrings, rings and necklaces: from extra large hoop earrings to elegant studs, from everyday wear charm bracelets to stylish stacking bangles, from simple and chic rings to alternative engagement rings. Most of my jewellery pieces have matching items, so you can wear a full set of earrings, bangles and necklace if you want.
Each piece is made from delicate beads of precious metal. I also make statement wear pieces for an attention grabbing style, and I love creating pieces that add a dash of colour to classic jewellery shapes.
All of my  handmade jewellery is created in my North London studio and is available to order for dispatch within 7-working days. I can make any of my pieces in alternative colours and styles so get in touch and let me know your preference.
Have a browse through my BoulBoulle collection and simply drop me an email to order the pieces you like.